Aangespoord door het nieuwsbericht
Britse ISPs gaan illegale downloaders waarschuwen
wil ik toch een keertje mijn ei kwijt over de vele voordelen van het illegaal downloaden van zo goed als alle media. Ik ga er niet diep op in, maar ik wil graag de voordelen vanuit mijn perspectief belichten.
Precies 15 jaar geleden deze maand begaf ik mij voor het eerst op het internet bij mijn ouders thuis. Ik was al eerder een paar keer op het internet geweest via school en de bibliotheek, maar dit was de maand waarin mijn ouders voor het eerst het echte internet op hun computer kregen. Ik was aan het einde van de basisschool, bijna op het punt om naar de middelbare school te gaan en had uiteraard geen geld. Maar ik had op de muziektelevisiezenders al vaak een leuke band langs zien komen en wist toen al dat dé manier om dat liedje gratis te krijgen was: KaZaA. Dus misbruikte ik ons V.92 inbelverbindinkje om het programma en één MP3 te downloaden. Het tweede dat ik wist te downloaden was het bekende 'wazzup?!'-filmpje uit die tijd. Heel erg vroege internetcultuur.
Beide artikelen heb ik nog op mijn NAS staan. Ik 'bezit' als het ware deze muziek/filmpjes. Ik bezit ze niet echt volgens de letter van de wet omdat ik er nooit voor betaald, maar ik kan ze overal en altijd afspelen, ongeacht of ik internetverbinding heb of dat überhaupt iemand anders er vanaf weet. Het is niks anders dan een bestand op een harde schijf - of ssd, of flashkaart.
Ik heb deze bestanden op een gigantische hoeveelheid apparaten gehad, van mijn eerste 486 PC tot de nieuwste i5, van mijn geliefde HP iPaq hx2400 tot mijn huidige Samsung Galaxy Note. En bij ieder apparaat werkte dat precies hetzelfde: copy, paste. En dan staat de media erop. Ieder apparaat dat ik ken heeft een copy&paste-functionaliteit voor bestanden, en een manier om gangbare mediabestanden af te spelen. Ik hoef niet te wachten tot iemand een nieuwe service maakt waarmee 15% van mijn muziek-interesse online streaming te beluisteren is als ik internetverbinding heb. Ik hoef niet 2 maanden te wachten na het uitkomen van een serie die ik wil zien. Ik kan alles gewoon nu downloaden op mijn maximale lijnsnelheid, kopiëren naar het gewenste apparaat waarop ik de media wil consumeren en het werkt.
Altijd.
Overal.
Geen enkele uitzondering.
Het is absoluut waar dat diensten als Last.fm, Spotify, Netflix, zelfs Youtube het een stuk gemakkelijker hebben gemaakt om legaal aan media te komen. Maar kom op zeg, het gebruiksgemak van iedere torrentclient is beter en de content die je daarmee downloadt is permanent van jou in een formaat dat door ieder programma begrepen wordt. Daarnaast is torrenten sneller dan iedere gecentraliseerde CDN. Je zit niet vast aan klote-interfaces, je kunt op ieder moment een kopie maken van je collectie en je kunt een andere versie downloaden als je dat zelf wil, binnen enkele seconden.
Dus niks is goed genoeg?
Oh, absoluut wel. Geef mij DRM-loze muziek in een universeel afspeelbaar formaat en laat mij films opslaan transcoden zoals ik dat wil. Of nog makkelijker: laat mij gewoon downloaden uit illegale bron, maar laat mij bij de content-eigenaar een token kopen waarmee ik kan bewijzen dat ik er alsnog voor heb betaald. Ik hoef niet afhankelijk te zijn van één content delivery network. Er zijn duizenden mensen waar ik mijn content vandaan kan torrenten. Het wiel hoeft niet opnieuw te worden uitgevonden, dit is een probleem dat al 15 jaar geleden is opgelost.
Let's look at nuclear power. Part 2: Physics again
Nuclear power is a contentious subject, for a bunch of reasons. But really, what are those reasons? Even if you have an opinion on the subject, more often than not that will mostly be based on qualitative arguments, not an in-depth understanding of the subject. Today I would like to start to change that.
Nuclear Physics 102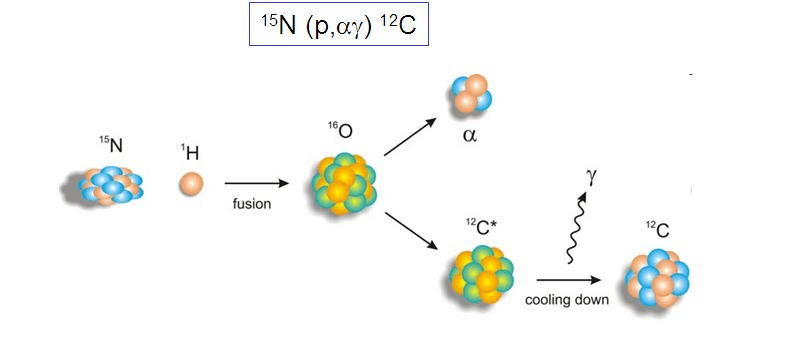 In the previous part of this blog series, we had a look at elementary nuclear physics and how to conceptualize the atom. We learned that atoms consist of nuclei and electrons, where those nuclei again consist of protons and neutrons, which in turn are made of quarks. All matter is held together by four fundamental forces - strong and weak nuclear force, electromagnetism and gravity - but some are more important than others in specific cases. Atomic nuclei mostly experience the nuclear strong force. All particles have associated energies, and the Pauli Exclusion Principle says that two particles cannot exist in the same (energy/other properties) state, so every additional particle in an atom exists at different states. We visualized this as a bucket where each nucleon sat at a different height in the bucket, and that that bucket can either overflow or particles can tunnel through the walls, shedding some of that energy (which we call binding energy).
In this part of the series, we will finalize your nuclear physics course with all you need to know about actual nuclear reactions, radioactivity, reaction chains and conserved quantities.
Conserved quantities
You have probably had chemistry in your secondary education. For instance, you know that you can make hydrogen (H
2
) and oxygen (O
2
) from water (H
2
O). However, water does not contain equal numbers of hydrogen and oxygen atoms - it's got twice as many H as it has O. So if we want to write down a correct reaction, we say:
2 H
2
O --> 2 H
2
+ O
2
Two water molecules go in, producing two hydrogen and two oxygen molecules. So in total there are four hydrogen atoms and 2 hydrogen atoms in this reaction, and the reaction conserves this. It just moves around how these atoms are bonded to each other. We say that the quantity of each element is conserved.
Nuclear reactions also conserve certain quantities. Obviously not atoms - nuclear reactions can alter atoms to be completely different elements. But they still need to make sure that all of its elementary properties, also called
quantum numbers
are conserved. These properties are:
Mass-energy (as well as (angular) momentum)
Charge
Baryon minus lepton number
Weak isospin
There is a little more to it depending on the kind of nuclear reaction (for instance, the nuclear strong force conserves all quark flavours), but this is all you need to know for now. So let's look at a couple of particles and their quantum numbers:
| Particle | symbol | Rest mass (eV/c2) | Charge | Baryon number | Lepton number | Isospin |
| --- | --- | --- | --- | --- | --- | --- |
| Proton | p | 938 272 081 | +1 | +1 | 0 | +1/2 |
| Neutron | n | 939 565 413 | 0 | +1 | 0 | -1/2 |
| Electron | e- | 510 999 | -1 | 0 | 1 | -1/2 or 0 |
In this table, rest mass simply means the mass without taking into account linear or angular momentum, which is energy and can, as you know, also be expressed as mass. Also note that the electron has this interesting property that its isospin can be -1/2 or 0, depending on its handedness. I won't go into this here, but it's a fascinating asymmetry and one of those enigmatic facts of this universe. The only thing you need to know is that a particle without isospin cannot undergo weak nuclear interactions.
Alright, let's try to do a nuclear reaction now! Hey, why don't we transform a proton into a neutron? They only differ a little bit by mass and electric charge, and it seems like if you just smash an electron into a proton, it should make a neutron, right? So, let's do this:
p + e
-
--> n
Let's see if we conserved everything. Well, first of all, it seems like we're missing a little bit of mass-energy. The neutron is about 1.3MeV/c
2
heavier than the proton, yet an electron only has a rest mass of 0.5MeV/c
2
. That's fine, we can just add some momentum to the electron. Charge is obviously conserved, but then we run into trouble. The baryon number of the proton and neutron are 1, but the electron has a lepton number of 1. So B-L on the left-hand side of the equation is 0, while on the right hand side it's 1. Oh, and the isospin is a bit of a troublemaker as well; it's 0 or +1/2 on the left hand side, but -1/2 on the right hand side.
This means we have to do one of two things:
Either find a particle with -1 lepton number and -1/2 or -1 isospin to add to the left-hand side
Or find a particle with +1 lepton number and +1/2 or +1 isospin to add to the right-hand side of the equation
This particle can have no charge, has to be a lepton and ideally it shouldn't be too big, otherwise we get a big energy imbalance. So let's dig through our lepton drawers to find what we can find:
| Particle | Symbol | Rest mass (eV/c2) | Charge | Baryon number | Lepton number | Isospin |
| --- | --- | --- | --- | --- | --- | --- |
| Electron | e- | 510 999 | -1 | 0 | 1 | -1/2 or 0 |
| Electron neutrino | νe | Very little | 0 | 0 | 1 | +1/2 |
| Muon | μ- | 105 658 375 | -1 | 0 | 1 | -1/2 or 0 |
| Muon neutrino | νμ | Very little | 0 | 0 | 1 | +1/2 |
| Tau | τ- | 1 776 820 000 | -1 | 0 | 1 | -1/2 or 0 |
| Tau neutrino | ντ | Very little | 0 | 0 | 1 | +1/2 |
Hey, awesome, we actually have a couple of particles that fit! We can put in an electron neutrono on the right hand side. It has the required +1 lepton number and +1/2 isospin. But wait a second, we can just as well add in a muon neutrino or tau neutrino. They all have the same... everything! Well, I can tell you that the electron neutrino is the one you really want, because we're dealing with an interaction involving an electron. Why is this? Well, there are more conserved quantities - every type of interaction has its own little family of quantities. They're not too important for what we're learning today, so I'm ignoring them for now, but you can see how this can quickly lead to trouble reconciling interactions.
Regardless, we now have a working interaction:
p
+
+ e
-
--> n + ν
e
This reaction is called
Electron capture
and is an important part of the mechanism by which heavy elements are created in supernovae, as well as a decay mode in certain isotopes.
Energy in reactions
So, we've now successfully converted a proton into a neutron - or did we? I already alluded to it - there is an excess of energy in the 'reactant' particles compared to the 'reaction products'. In other words, this reaction is 'exothermic'. I'm using chemistry terms here because I assume many readers are familiar with them. The real reaction should be something like this:
p
+
+ e
-
--> n + ν
e
+ ~1MeV
This reaction energy isn't a discrete thing - it is distributed over the reaction products in such a way that momentum is conserved. Momentum is energy, but depending on the rest mass of a particle it can result in wildly different speeds. For instance, when a decaying atomic nucleus ejects a neutron spontaneously, usually in the order of 10 MeV of energy is released. This is equally distributed over the neutron and nucleus (assuming no other particles are involved in the process) - 5MeV for the neutron and 5MeV for the nucleus. However, that nucleus is probably over 200 times heavier than the neutron, meaning that if we consider that E = 1/2 mv
2
, the neutron will be accelerated to about 31 000 km/s, or about 10% of the speed of light. The nucleus, on the other hand, only gets kicked up to about 150 km/s, a comparative snail's pace.
It's also important to note that any reaction that requires energy to be put in, in chemistry terms 'endothermic', will not happen until at least that amount of energy is somehow supplied. That energy needs to be supplied in a way that actually interacts with the nucleus as well - for this reason photons (light, lasers) are often completely unusable, because all they really do is interact with the electrons, not the nucleus.
Cross sections
Say you have a nice deuterium atom (a proton and neutron) and you want to make it into a helium-3 atom (2 protons and a neutron).
2
1
H +
1
1
H -->
3
2
He ( + γ + 5.49MeV)
(By the way, this is probably a good time to introduce the notation we use for nuclear reactions. The H and He are the atoms hydrogen and helium, and to the left of it are two numbers. The top one is the sum of neutrons and protons, while the bottom one is the number of protons. That's all, really. Also, we use a + or - in superscript
after
the element or particle to denote its electric charge)
So you take the deuterium atom and fire a regular hydrogen atom (proton + electron) at it. This reaction liberates a LOT of energy - 5.49MeV - so you'd imagine that, because the reaction products are much more stable, this is a really easy thing to achieve, right? Unfortunately, the coulomb (electromagnetic) force between the nuclear proton and the proton you're firing at it is very strong, so even if you fire it almost exactly head-on, it is usually deflected. Even if you fire the proton head-on into the deuterium nucleus, it still has a big chance of not getting over the nuclear strong force 'barrier'. Then if you try to accelerate the proton even faster to hit it harder, the entire nucleus falls apart because you add more energy than the binding energy of the nucleus. There is just no winning here.
You can imagine the nucleus as a tiny little target, both in spatial and energy dimensions. If you hit it just in the right spot and just with the right energy, it sticks. The apparent size of the target you need to hit is called the reaction cross-section, and sometimes this also includes the energy window you need to hit. The deuterium-hydrogen reaction we just discussed has an absolutely tiny cross-section. You have a much better chance of fusing deuterium and tritium together, because this has a reaction cross-section (and required energy level) many orders of magnitude wider.
This concept of reaction cross-sections is especially important for nuclear reactions because of the central role this plays in getting these reactions to work at all. But, obviously, it would apply just as much to any other reaction, even those not involving any nucleons or atoms at all. Like the interactions between photons.
Atomic nuclei
Binding energy
We have touched on this before in the first part of the series: Atomic nuclei have
less mass
than you would expect based on the rest mass of the sum of its particles. Let's take an atom of iron for instance, specifically the isotope iron-56, the most abundant isotope in nature. Iron has the atomic number 26, so it has 26 protons and 30 neutrons, as well as 26 electrons. A neutron weighs 1.674929 x 10
-27
kg, a proton 1.672623 x 10
-27
and an electron 9.109390 x 10
-31
. Also, trust me on this one, there are 6.0221309 x 10
23
atoms in one mole of material.
So how heavy should iron be per mole? Well:
a mole of 26 protons weigh 26 x 1.6726 x 10-27 x 6.022 x 1023 = 0.0261892 kg
a mole of 30 protons weigh 30 x 1.6749 x 10-27 x 6.022 x 1023 = 0.0302599 kg
a mole of 26 electrons weighs 26 x 9.1040 x 10-31 x 6.022 x 1023 = 0.0000143 kg
So our mole of iron-56 atoms should weigh a nice and even 56.4634 grams. So let's verify our result by going to
the Wikipedia page
and see that... it actually weighs 55.9349 u. That u, short for the atomic mass unit, means
grams per mole
. There is about half a gram missing! This mass, or more accurately mass-energy, is called the binding energy. And as you can tell, it's quite a lot - about a percent of the average atom's mass is missing.
Not all atoms have the same binding energy, and generally speaking - as everything in nature - atomic nuclei want to be more stable, i.e. have a higher binding energy. If you graph the binding energy of all elements by weight, you find this:
This is probably the most important graph in this entire article, because it shows you at a glance why nuclear reactors work the way they do. You see, the graph first goes up, and then it goes down. In other words, somewhere in the middle, near Iron-56, is the 'most stable' atomic nucleus, the one with the highest binding energy. If you have anything lighter than iron, you can fuse them together to create not just a heavier atom, but release a ton of energy in the process. Likewise, take something heavier, break it apart (fission it) and you ALSO release energy. This is why both fusion and fission can release energy, but only with the right kind of 'starter' atoms and 'reaction products'. It clearly wouldn't make sense to fission uranium into tons of hydrogen.
A couple of things in this graph are odd. I said it goes up, then down, but that's a simplification - it goes up and down a lot, especially at the beginning. Most notably, helium-4 - 2 protons and 2 neutrons - is incredibly tightly bound. This is what I was talking about earlier; the helium-4 nucleus sort of exists 'on its own' within a lot of heavier cores, exactly because this spatial arrangement of neutrons and protons is so tightly bound. Likewise, C-12 and O-16 are especially tightly bound.
Decay
As you know from part 1 of this series, atomic nuclei are a careful balancing act of just the right amount of neutrons to protons. This ratio is called the N/Z ratio, where N is the amount of neutrons and Z is the amount of protons. Stable atomic nuclei have an N/Z ratio near 1 for the very smallest atoms (excluding hydrogen, just a proton) to 1.537 for lead-208, the highest N/Z ratio for stable nuclei.
This means that there are always quite a bit more neutrons in an atomic nucleus than protons, and this is the natural state of things. But what happens when this ratio is not obeyed? In other words; what does an isotope do when it has 'too many' or 'too few' neutrons? Well, as you can imagine, it will always try to achieve stability, so too many neutrons means it either wants to shed neutrons, convert neutrons into protons or add protons. Conversely... well, you get the picture.
So we can imagine a couple of ways in which an atomic nucleus can rearrange itself, given the constraints we know already. Let's say we have a nucleus with too many neutrons as compared to protons. What can we do to fix this?
Problem: too many neutrons. Solutions?
Convert a neutron into a proton. This increases the atomic number by 1 and causes an electron to be emitted (we've done this before). This is called beta decay (an electron is a beta particle)
Eject a neutron. This keeps the atomic number the same but reduces N. This is called neutron emission.
That seems pretty obvious, to be honest. Now, the other option:
Problem: too many protons. Solutions?
Convert a proton into a neutron. This decreases the atomic number by 1 and causes an electron from one of the inner shells of an atom to be 'captured' by a proton in the nucleus. That's why we call this electron capture**.
Eject a proton. Guess what this is called. Proton emission
Eject a Helium-4 nucleus. What?! Well, think about it. There are way more neutrons than protons in a nucleus, so if you eject the same number of protons as neutrons, you proportionally reduce the share of protons in the remaining nucleus. He-4 is extremely tightly bound, so it is the most convenient way to do this trick. But theoretically, you can eject any number of neutrons and protons together that improve the N/Z situation. Ejecting a He-4 nucleus, also known as an alpha particle, is called alpha decay. Ejecting more than one particle at once is called cluster decay.
Which type of decay occurs mostly just depends on what is most energetically favourable. Ejecting an alpha particle generally doesn't happen to light elements - the internal binding energy in the nucleus of lighter elements is too small to accomodate this process. But even in many heavier atoms, it's energetically generally more favourable to do electron capture. You see, if you think back to the bucket model of a nucleus - small nuclei generally sit pretty deep in the bucket, so it's really unlikely for one nucleon to spontaneously pop out, let alone more than one. In order for something like that to happen, you need a lot of energy to push multiple particles over the edge of the bucket.
This can happen, though! For instance when for some reason you put a lot of energy into an atomic nucleus, which puts the nucleus into an excited state. This is often denoted by a little star symbol behind the isotope, e.g.
56
26
Fe*. This extra energy in the core can cause other types of decay to happen.
There are also other ways to get rid of this extra energy. If a nucleus has extra energy (for instance, it just decayed but couldn't get rid of the energy in its decay products and is left with an excited nucleus) it can emit a photon. This nicely conserves all quantum numbers (a photon has B-L of 0, no isospin, no rest mass, so all you do is get rid of energy with this method) and gets rid of an arbitrary amount of energy for the nucleus. Because these photons often have massive amounts of energy - millions of times as much energy as visible light photons - they're very dangerous and in a class of their own, called gamma rays. This type of 'decay', almost always accompanied by other decay methods, is called gamma decay.
So, with all of this information in hand, we can look again at the picture at the start of this subchapter and show what kind of decay modes are most common for the isotopes. This should be no surprise anymore:
Light blue is beta decay, pink is electron capture, yellow is alpha decay and - these are hard to see - dark purple (at the bottom of the picture) is neutron emission while orange (mostly at the extreme top) is proton emission. If it's not clear why all of this is obvious, please re-read this chapter. This is important to understand the rest of this series!
Decay chains
Some elements just can't take a break. Take for instance uranium-238, the most abundant isotope of uranium and one of the very few naturally occurring radioactive isotopes.
238
92
U, like most very heavy isotopes, is predominantly an alpha emitter. When it ejects an alpha particle, it loses 2 protons and 2 neutrons, becoming
234
90
Th (Thorium-234). But wait, thorium is ALSO not stable. This is a very heavy isotope if thorium, so it experiences beta decay, becoming one element higher: Protactinium-234. And guess what, Pa-234 is also unstable.
I could go on, but it would get really boring. It takes at least 14 steps for U-238 to decay into a stable isotope, Lead-206:
But, and this is crucial: the entire series of decay products, called the decay chain, is predictable if you follow the rules outlined above and calculate which transitions are allowed based on energy. We also know the half-lives of various products - the time it takes, on average, for half of the atoms in a batch to decay. The bandwidth of half-lives is gigantic - some isotopes decay in less than a nanosecond, others live on for many times the age of the universe. Things that have a short half-life are generally rare, whereas things that stick around - well, they stick around. This makes it so that we can calculate the amount of certain radioactive decay products that we expect given a certain starting situation.
Decay chains also release massive amounts of energy. For instance, even though the initial uranium-to-thorium decay only releases about 5MeV, if you add up all the energy released in nuclear decay from U-238 to Pb-206, you end up with over 50MeV. With the vast majority of decay products only having half-lives of seconds to minutes, we really shouldn't say that nuclear reactors run on Uranium or Thorium - they run just as much on the many decay products in between. Note though - a decent chunk of energy is lost to neutrino's, particles which are extremely hard to interact with, so these generally just shoot off into the cosmos.
Prompt decay
Now, the last piece of the puzzle you need to understand why we build nuclear reactors the way we do is the concept of prompt decay. This hooks back into the explanation on nuclear decay in general: you can cause some isotopes to decay in ways different to natural decay if you blast them with an extra bit of energy. This happens a lot in decay chains in general; a nuclear decay releases energy, but sometimes this energy is not released with the reaction products. This energy then causes the nucleus to exist in an excited state, which is either resolved through a process called [b]internal conversion[/i] (where it for instance ionizes itself by shooting off an electron with the excess energy - note that this is fundamentally different from beta decay, even though it also releases an electron), or it can go into different decay modes that are not possible with the nucleus in a ground state. Most commonly, excited nuclei undergo cluster decay, becoming alpha emitters or even emitting heavier nuclei (sometimes called spontaneous fission). This is especially common with superheavy elements.
The cause of the excited nucleus can also be the decay product of a nearby atom. For instance, a neutron emitted from a nearby nucleus can hit another nucleus, causing it not just to gain energy but an extra neutron as well. In a few very special circumstances, for instance with U-235 and Pu-239, on average each fission reaction produces more neutrons than it took to happen. These isotopes can cause rapidly accelerated nuclear decay, because the decay of one nucleus will cause a chain reaction of subsequent neighboring decays, releasing a lot of energy as it goes on. If left unchecked, you have a nuclear bomb at your hands. If you moderate this process, you can get a lot of energy out of it, even when the fuel ore could never produce that much energy by itself.
Hey, what about fusion?
We've been primarily talking about nuclear fission, but nuclear fusion is of course just as important for the discussion of energy production from nuclear reactions. However, all the information you just learned can just as well be applied to fusion.
The major difference between fusion and fission is the fact that fission occurs spontaneously at standard conditions - room temperature, typical earth surface pressure, that kind of stuff. In a nuclear reactor, you really have to keep the nuclear fuel from releasing its energy too quickly. Fusion is very much the opposite.
Although - if you look at the graph of binding energies - there is MUCH more energy to be gained by fusing atoms together (especially if you consider that the energy from fused atoms comes from about 100x smaller atoms), the big issue keeping nature from spontaneous fusion is the reaction cross-section. Overcoming the Coulomb and Strong nuclear force requires in the order of 0.1 MeV, which is quite a lot of energy, but the reaction yields neutrons and beta particles with energies in the order of 10MeV. That's good, right? Those can go on and fuse with other nuclei!
Well, no - reaction cross-sections are really reaction windows: too much energy (specifically: more than the binding energy of a nucleus), and you end up destroying your target, consuming the momentum as binding energy and rendering the whole endeavour fruitless. Considering that these are already really tiny targets to hit physically, and it should come as no surprise that you need incredibly high pressures and temperatures all at the same time to initiate a fusion reaction.
Otherwise, there is nothing in this article that can't just as well be applied to both fission and fusion.
Conclusion
This concludes the physics tutorial for this series. Next time we will be looking at some of the simpler reactor designs and understand exactly why they work the way they do. It's going to be exciting, although not nearly as much as Tc-99m.
Het is inmiddels bijna 3 jaar geleden dat ik een dienst begon om als particulier bij Farnell te kunnen bestellen. Vandaag stopt die dienst. Voor het middaguur vandaag werd ik gebeld door iemand van Farnell over het feit dat vanwege nieuwe exportrestricties het dropshipping-model dat ik aanhoud voor mijn klanten niet meer houdbaar is. Ook verdient Farnell te weinig aan de bestellingen - hoewel dat al langer speelt en totnogtoe geen probleem was
Het einde van een tijdperk
Ik heb het al vaker gezegd in mijn blogposts over Farnell: het is ongelijk verdeeld in de wereld. Bedrijven, zelfs hele kleine bedrijfjes zoals mijn eenmanszaak Efficient Electronics, kunnen bij gratie van hun BTW-nummer en KvK-inschrijving toegang verkrijgen tot allerlei groothandels. Het is een mythe dat groothandels goedkoop zijn - wat groothandels hebben is een extreem breed assortiment. In de elektronicawereld zijn er - en dit is geen overdrijving met hoopjes dubbele onderdelen - letterlijk honderdduizenden verschillende onderdelen die je zou willen gebruiken voor een ontwerp. Als bedrijf kun je daarvoor terecht bij onderdelendistributeurs zoals Farnell, Digikey, Mouser, RS Electronics en nog vele anderen. Als consument niet; je bent afhankelijk van retail, en daar worden vaak maar voorraden aangehouden voor enkele honderden verschillende onderdelen. Zelfs giganten zoals Conrad komen niet in de buurt van de diversiteit van assortiment dat Farnell biedt.
Maar he, ik heb een bedrijf met een account bij Farnell! Wat nou als mensen bij mij een bestelling doe, en ik voer die bestelling rechtstreeks door naar Farnell, die het vervolgens bij de klant dropshipt. Dat is dan ook precies wat ik heb gebouwd in een website genaamd Bestelbijfarnell.nl, wat later omgedoopt werd naar Muxtronics Onderdelen.
Na bijna 3 jaar in de lucht te zijn geweest is het echter over met de pret; 1876 orders zijn de limiet. Waarom? Nou, meerdere dingen.
Laten we Trump de schuld geven
Elektronische onderdelen bevatten vaker en vaker zaken als backdoors, cryptografie en andere zaken die overheden graag willen beschermen. Daarom zijn er vele verdragen waarin is opgenomen dat je niet zomaar de bouwstenen van elektronica kunt verkopen aan Jan en alleman; bedrijven zoals Farnell moeten hun klanten screenen om te voldoen aan zaken als de PATRIOT-wetgeving alsook nieuwere wetten die onder Obama en Trump zijn doorgevoerd. Gezien Farnell normaal gesproken aan vaste klantadressen levert weten ze zeker dat het bij een geverifieerde klant wordt geleverd - echter doe ik dropshipping, waardoor mijn bestellingen aan... Jan en alleman worden geleverd, niet aan mij. Dit is blijkbaar recent zo'n probleem geworden dat Farnell dit niet meer goedkeurt. Mijn bedrijfsmodel is daarom niet meer levensvatbaar.
Echter loopt ook sinds het begin van de dienst het feit dat Farnell bijna geen winst maakt op de bestellingen - en ik ook niet trouwens. De orderbedragen zijn grootendeels te laag om UPS Next Day delivery te bekostigen, dus echt duurzaam was het businessmodel niet. De reden dat dit werd gedoogd was omdat het ook niet echt verlies maakte, en een initiatief was dat bij Farnell als positief werd gezien. Achter de schermen is Farnell ontzettend aardig geweest voor mij en mijn klanten, en daarvoor bedank ik ze dan ook uitdrukkelijk!
Potentiële alternatieven
Dan rest nu de vraag: waar haal je nu je onderdelen vandaan? Allereerst is er wel het een en ander veranderd in de afgelopen jaren; het is mogelijk om tegenwoordig bij Europese warenhuizen van traditioneel Chinese grootgrutters veel meer te bestellen dan in 2016 mogelijk was. Ook hebben we in Nederland de besteldienst van Sinuss. Beide geen perfecte vervangingen, maar je kunt in ieder geval de meerderheid van de onderdelen bij distributeurs krijgen als particulier. De nood voor een dienst zoals de mijne is allang niet meer zo hoog.
Nog een optie is het omvormen van mijn dienst naar een Samenkopen/Inkoopacties-achtige aanpak. Om het minimum gewenste orderbedrag te behalen en het bezorgingsadres bij mij te houden kan ik een doorstuurservice beginnen. Uiteraard zitten hier dan wél verzendkosten op en zal het tot wel een week duren voordat je je bestelling binnenkrijgt (i.p.v. de volgende dag). Hoewel dit best een optie is voor mij, heb ik hier voorlopig geen tijd voor om op te zetten en weet ik niet of dit zoveel beter is dan Sinuss. Behoudens een grote roep vanuit de community denk ik niet dat dit gaat gebeuren.
En misschien is het ook beter als ik me voorlopig concentreer op Muxsan en Tindie - mijn primaire bezigheden vandaag de dag. Een eventuele opvolger voor Muxtronics Onderdelen kan ik beter overlaten aan iemand anders. Iemand met meer tijd en de drive om elektronische onderdelen te democratiseren in Nederland. Dit is een bedrijf waarin je - zoals ik heb gedaan - met pure word-of-mouth al tegen de €30 000/jr omzet kunt draaien. Met wat meer advertenties kun je hiermee prima je studie bekostigen of zelfs een - karig - voltijd salaris uit trekken. Geïnteresseerd? Onder enkele voorwaarden deel ik met plezier kostenloos mijn backendcode met je. Die voorwaarden zijn:
- Ik mag mijn code zonder beperkingen en kosten blijven gebruiken en aanpassen. Beschouw het als een fork van een opensourceproject, niet als overdracht van auteursrechten.
- Ik geef geen enkele garanties op welk aspect van de functionaliteit dan ook
- Je gebruikt deze code voor het originele doel, namelijk het aanbieden van een onderdelenbesteldienst voor consumenten, voor minimaal 6 maanden.
- Pay it forward: als je je dienst opgeeft, publiceer je je eigen code of draag je deze over naar een opvolger
Ik kan je helpen met de zaken achter de schermen bij Farnell.
Bedankt aan alle klanten
En dan rest mij nu alleen nog een bedankje aan alle klanten - ruim 500 in de afgelopen 3 jaar! Bedankt voor de trouwe klandizie van sommigen en het gestelde vertrouwen van de grote hoeveelheid eenmalige klanten. Jammer dat het niet langer mocht duren. Misschien tot ziens, misschien tot ziens bij een opvolger, en anders nog een fijne elektronicacarrière toegewenst aan iedereen die bij Muxtronics heeft besteld!