I have recently gotten quite some questions - both from people on the streets and on the internet - about my bicycles. I've gotten a surprising amount of questions from foreign readers - that's why this blog is in English. I mostly use recumbent bicycles and my daily driver is an Alleweder velomobile. Here's all you need to know about (my) recumbent bikes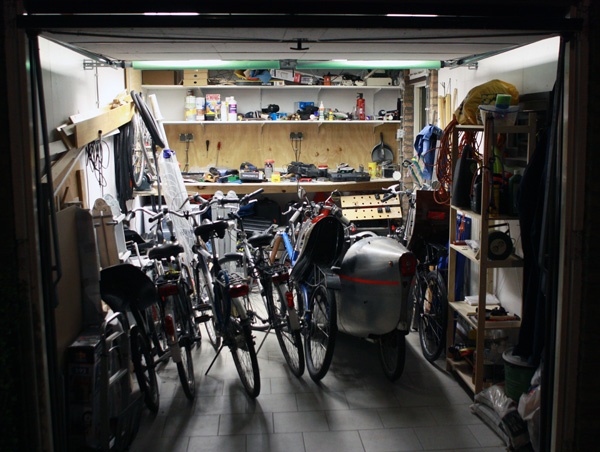 Q: Why recumbent?
A: A better question would be: why do people ride upright bicycles? What is the advantage of having more wind resistance, poorer vision and lower speed for the same effort? It just seems daft.
Of course, there are important reasons why only few people ride recumbents:
The first, and most widely publicized one, is because the UCI (international cycling union) at the start of the 20th century banned recumbent bicycles from all major sporting events. This meant recumbents got a bad rap (they 'cheated' by being better and/or they were 'dangerous' because they went so fast) and anyone aspiring to ever take part in a competition wouldn't be able to enter on a recumbent.
The second big reason is because most recumbents after the '70s haven't been built for practical use, but more for either long-distance traveling or sport. Like many upright sports bicycles, it's rare to find popular recumbents with practical, upright-bike-like cargo capabilities or even something as simple as a bike stand.
The last reason, which is simply a consequence of the niche-ness of recumbents, is that it's a foreign, weird looking device. People often feel embarrassed in their first hours or days on a recumbent. It's different, you have to get used to that and many people (think they) can't.
As for positive reasons why recumbents are a good idea:
They are much more comfortable to the butt, back and neck. Like, 100x better. I am not exaggerating. It's a positive delight to ride recumbents for hundreds of kilometers on end. The only thing holding you back is your legs and possibly your bladder.
Vision is much, much better. (see question about vision)
You go faster and/or require less effort to move and/or can lug along more stuff
Q: Why do you ride a velomobile?
A: For me, a combination of cost and environment. Most people of my age and beyond tend to have at least one car in their household. This is both expensive and, more importantly, I am pretty critical about the environmental and societal impact of cars. This is not the place to rant, but:
Cars sit around doing nothing >95% of the time. Not just that, they require prime real estate to do that. It's one of the most wasteful purchases in terms of utilization factor.
Cars have the lowest transportation mass efficiency of any vehicle; a car routinely weighs an order of magnitude more than its payload. Compare this to aircraft (about 0.7-2 times as much payload as vehicle weight) or bikes (5-10 times as much payload as vehicle weight) and it's clear how wasteful this kind of design is.
Cars have relatively poor energy efficiency. Internal combustion engine powered cars use about 300-700Wh/km to move around at an average speed of about 60km/h. Even the best electric cars around use much more than 100Wh/km. Bikes, even when powered with the grossly inefficient motor that is human muscles, weigh in at - at most - a couple Wh/km. Orders of magnitude better.
Cars require incredible amounts of infrastructure to work: hundreds of square kilometers of roads, buffer zones, sound walls, associated infrastructure. Bikes require much less infrastructure per traveller.
TL;DR: I really don't like how inefficient cars are, especially when compared to bikes. There are some nuances to this issue that I might go into in a later blog though (people make cars out to be evil environmental cataclysm-engines that ruin everything, but it's not that bad). Anyway, I looked around to see how I can delay having to buy a car as much as possible. I have my own business in-house which means I don't have to commute, and when I do need to move significant distances I figured a velomobile would be the obvious choice that is not a car.
Other reasons to own a velomobile are:
Because they are even more streamlined than recumbent bikes, wind doesn't influence you at all anymore. Your speed (and thus commute time) is extremely consistent throughout the year and wind conditions.
It's warm and dry inside. Can be a disadvantage in hot climates, but in the Netherlands it's usually appreciated
More place to store stuff.
You are better protected, which is a definite advantage considering the statistical dangers of riding a bike a lot at high speeds
Very useful as a trolley as well!
Q: Did you build it yourself?
A: The Alleweder was originally a kit velomobile, and as such it does look like something that is very amateur-built. It's got a lot of little dents, imperfections, crooked rivet placement etc. etc. It's not nearly as nice-looking as modern fiber reinforced plastic monocoque designs.
That being said: no, I didn't build it myself. I bought it from - as far as I can tell - the third owner, making me the fourth owner. The bike is probably either from 1996 or 1999, so at least a decade and a half old. For such an old bike with such a heavy usage pattern, I'd say it has held up very well.
Q: Is it hard to ride a recumbent bike?
A: Of course, riding a velomobile isn't hard at all. Getting in and out is a bit harder than other bikes (you do have to be able to lift yourself out with your arms, so this is not suitable for the elderly), but other than that there is no balancing. It's a three-wheeler. Easy as can be.
Two-wheeled recumbent bikes are a different story. Short wheel-base bikes like my M5 Blue Glide are the easiest to ride: they respond very much like any other bike. Most people can instantly ride on this bike without falling. Because of the smaller front wheel and heavier front steering assembly it does feel different ('twitchier'), but it doesn't take long to get used to that.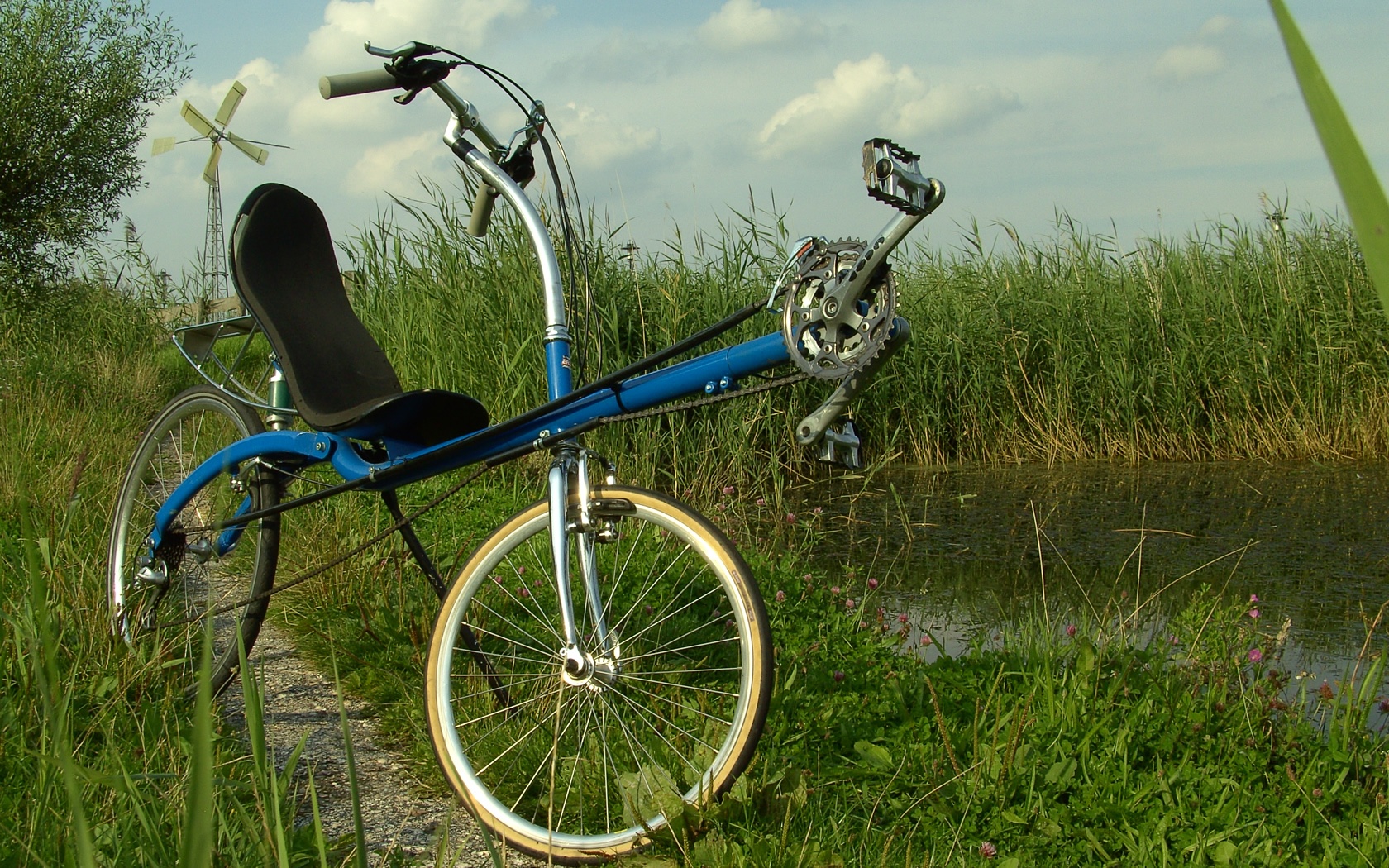 My M5 Blue Glide, a short wheelbase recumbent bicycle
Low-riders and long wheel base bikes are a bit different. These respond really differently and it usually takes about a day of exercise before people feel confident enough to go on the road with these bikes.
Then there is my favourite recumbent; the Flevobike. This is a totally different beast. You don't steer with a traditional steering wheel, but with your legs. The frame bends in the middle. This leaves your hands free to... well, relax. Maybe brake once in a while (the steering wheel on a Flevobike is just there to hold the brakes and shifters). This bike takes ages to learn to ride on, and longer to master. It took me about 2 weeks to get even remotely comfortable riding it on public roads. The frame can be detached in the middle, making it a foldable bike that you can take with you in most public transport. It's maximum awesomeness, but so hard to ride.
Me on my Flevobike when I just got it
Recumbents exist in so many shapes and sizes that it's hard to be exhaustive here, but these are the major types.
Q: Is the neck position comfortable?
A: Most people see people on recumbents and think the neck position is uncomfortable. Quite on the contrary; two things are at play here: 1) your neck muscles are made to keep your head upright no matter what the orientation of your torso is and 2) it's actually more relaxed to bend your head forwards a little (i.e., looking at the ground when you're on an upright bike) than to keep it in a straight line with your torso. So yes, it is comfortable.
This doesn't mean everybody is magically comfortable when they first try out recumbents. Some recumbents have very extreme positions that are just inherently uncomfortable of course, but this is usually only the case for track racing recumbents. More commonly, people that first try out recumbents try 'too hard' to keep their head in a certain position and their neck muscles getting tired as a result. If you just relax, it should be fine.
Q: Does it go fast?
A: Depends. Like upright bikes, there are fast and slow recumbents. For instance, the small-wheeled Flevobikes aren't really made for speed. The double suspension sucks a bit of power and I've purposefully outfitted my Flevobike with slow-but-indestructible tires and an internally geared hub to make it a very dependable backup bike.
All recumbents have a speed advantage over upright bikes, especially with headwind. This is just physics at work: less frontal surface area means less air drag. But none of my bikes easily break 35km/h, including my velomobile. I like the comfort more than the speed.
Some people do have the really fast bikes. A friend of mine cruises at about 45km/h in his Quest velomobile. Recently, a Milan velomobile was spotted in the Dutch province of Zeeland breaking 80km/h on a regional road - and maintaining that speed for quite a while.
Q: Why don't you have a little flag thingy on the back?
A: Because it's useless. Like helmets
No, but really: the hypothetical idea behind a flag on a bike is to improve visibility of the bike. This fails because of two very important reasons:
The flag has a vanishingly small visible surface area as compared to the rest of the bike, improving the visibility by almost nothing
The flag has absolutely no surface area in the most important direction: as viewed from the front of the bike.
Human vision is sensitive to a combination of contrast, surface area and movement. In order to make yourself seen, you must try your hardest to have contrasting colors to your surroundings, have the maximum amount of surface area and move with respect to the background. A flag doesn't help. And let's be honest, being a recumbent bike doesn't particularly help with frontal surface area. That's the whole idea behind the bike.
Add to that the fact that these flags are all but invisible in poor vision conditions and that I had a fucking accident just last friday in perfect vision conditions because some poor old lady just didn't look at all... And there are much more important things to do when it comes to traffic safety:
Get properly bright battery-powered (or capacitor-supported) bike lights. Always have them on in everything but the best of viewing conditions. Lights work MUCH better to stimulate our contrast-sensitive brain parts than reflectors or clothing.
Ride defensively. Give way to other traffic, don't run red lights.
Know your surroundings. Get some mirrors, they add SO much road awareness. Look ahead as far as possible and plan your actions in advance.
Of course, all the carefulness in the world won't save frequent cyclists from getting in accidents and I've had a few (most of them one-sided, e.g. slipping off my pedals and flying off my Flevobike head-first). Be aware that cycling is one of the most dangerous methods of transportation and that you have a responsibility to yourself and other traffic to be at the top of your game when you step into or onto a bike.

SWOV, 2011. Risk of death (left) or major injury (right) per passenger kilometer. From left to right: pedestrian, bike, moped, motorbike and car. For people that ride their bike a lot, bicycles are fairly unsafe as compared to cars
Q: How well can you see from so low down?
A: Better than on my upright bikes. As I mentioned before, your head has a tendency to tip down on an upright bike, making you very aware of the ground beneath you, but not necessarily of the road ahead. This is not a problem on a recumbent; you're just always looking ahead. The comfortable position also makes for better sideways vision, I find. But most importantly: because it's harder to turn your torso around to look behind you, almost all recumbents are fitted with bike mirrors.
Get bike mirrors now. They are awesome.
Once you get accustomed to using bicycle mirrors you can really appreciate what makes them great, and how handicapped your fellow upright cyclists are without them. You have so much more vision. You can see people about to overtake you from hundreds of meters away, avoiding dangerous situations. You will never be startled by anything again (well, except for cars hitting you in the side).
Besides the mirror and head position thing, vision is usually good. On the higher recumbents (like my M5) you tend to be exactly on the same level as car drivers, looking them in the eye. I find this to be a better position than on an upright bike, because human vision is constantly looking for things that look like faces, and my face is easy to find when it's right in the center of a car's vision.
Lower recumbents do suffer from reduced vision, especially in places where there are obstacles between you and other traffic that are just a bit too high to look over. In these cases you really do need to ride defensively and slowly.
In general though, infrastructure in the Netherlands is pretty good and this is a rare occurrence. Municipalities are required by law to cut bushes and other road separations to less than 45cm exactly to avoid this problem, and most roads are in compliance.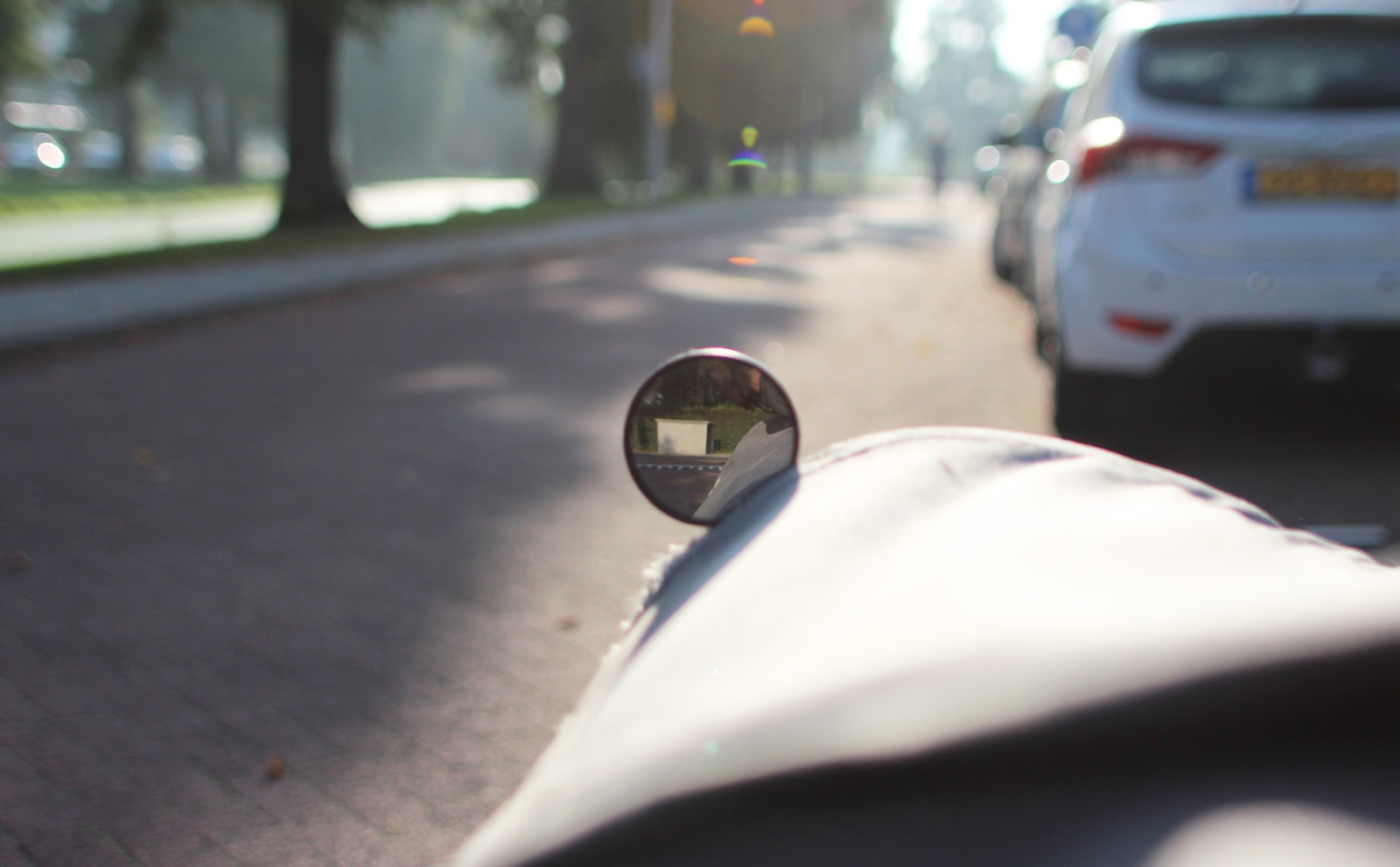 Q: Is it expensive?
A: Like any other bike, you can make it as expensive as you'd like. Or as cheap as you like. I mostly have really cheap bikes. My M5 was about 250 euros when I bought it second-hand, my Flevobike was ¤45 but needed about ¤60 in repairs and my Alleweder velomobile was roughly 1000 euros including repairs - again,
all second hand
.
But there are plenty of recumbents that cost more than a car. One of the most technologically impressive two-wheelers is the Flevobike Greenmachine, which costs about ¤5000 new. Some velomobiles can set you back close to ¤10000 if you buy all the options.
That being said, especially the more expensive bikes tend to depreciate very little, if at all. For a while, second hand Quest velomobiles sold for 20-50% MORE than their list price, due to high demand and low supply. Even now that this has been fixed, the difference between new and second hand is less than taxes. Only the really old ones can be considered 'cheap'. A recumbent bike is a good investment and much cheaper than a car, even when the initial outlay is higher.
As for maintenance and parts: this depends. Original parts are, because of the small market, expensive. I just paid 40 euros for a single idling chainwheel. It's a really good one, I'm happy with it, but if this were the normal bike market this would have cost me less than ¤10. And be prepared to do your own maintenance, because most bike shops won't touch recumbents.